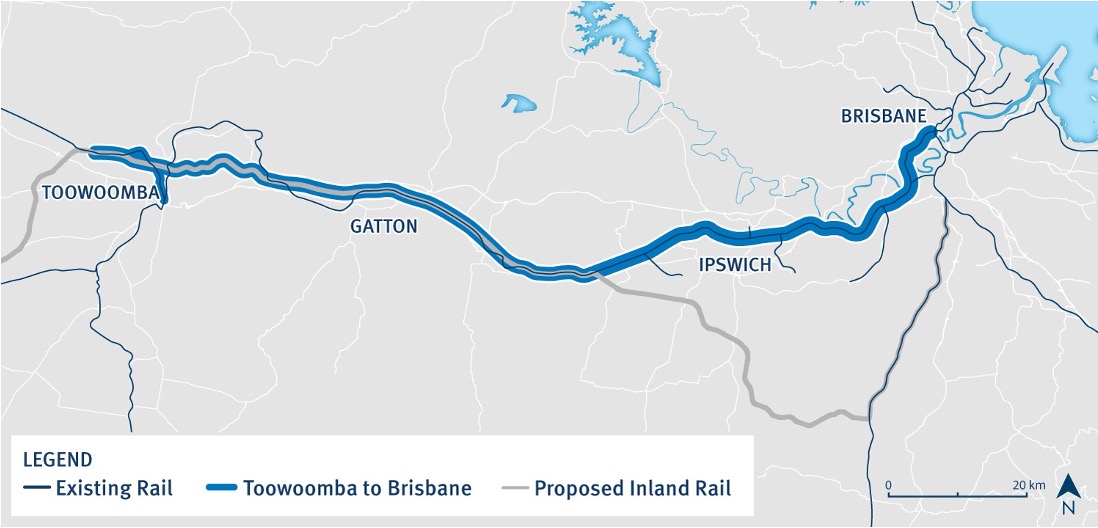 Toowoomba to Brisbane passenger rail
End client
Queensland Government Department of Transport and Main Roads (via subcontract to arcadis)
Location
VLC was engaged by Arcadis on behalf of the Queensland Government Department of Transport and Main Roads to undertake demand forecasting for the Strategic Assessment of Service Requirements and Preliminary Evaluation phase of the Business Case for a potential new rail line between Toowoomba and Brisbane.
Client requirements
The Australian and Queensland governments have committed to jointly undertaking a Strategic Business Case (SBC) to align with TMR's Project Assessment Framework (PAF) and Infrastructure Australia's (IA) Infrastructure Australia Assessment Framework (IAAF).
The first stage aligned with a Strategic assessment of service Requirement (SASR) and determined future passenger rail requirements between Toowoomba and Brisbane. It defined the current and future "problem statement" between Toowoomba and Brisbane to build the case for the project. The second stage (Preliminary Evaluation) explored the relative demand outcomes under potential project options to identify a feasible preferred option for the corridor.
Delivered outcome
VLC used outputs from the Zenith Strategic Model to identify the potential pool of demands for the Toowoomba to Brisbane Corridor, and explored growing congestion as a potential driver for the project. VLC then developed a bespoke spreadsheet-based model to forecast rail demands under the project options for the Toowoomba to Brisbane corridor – a bespoke model was necessary given the lack of available data, insufficiency of existing strategic models and the tourism and infrequent nature of public transport trips between the two regions.
In their role as demand modellers VLC also guided the evolution of the Business Case, identifying risks (a project option depended on infrastructure not included in the Base Case) and opportunities (land-use change as a potential enhancer of the case for rail between Toowoomba and Brisbane) and made changes to the methodology (agreed upon with the client) to reflect these.
VLC developed the bespoke spreadsheet model, presented the methodology to key stakeholder groups (TAU and Infrastructure Australia), forecast demands under each of the project options (including the potential for land-use change to enhance it), worked alongside the economists to develop methodologies to monetise benefits derived from the bespoke spreadsheet based model, and summarised findings in a Demand Modelling Report to assist in development of the overarching Business Case report.
This project was delivered under tight timeframes to align with overall funding commitments.